Mental Fitness
How to Reduce Layoff Anxiety in the Workplace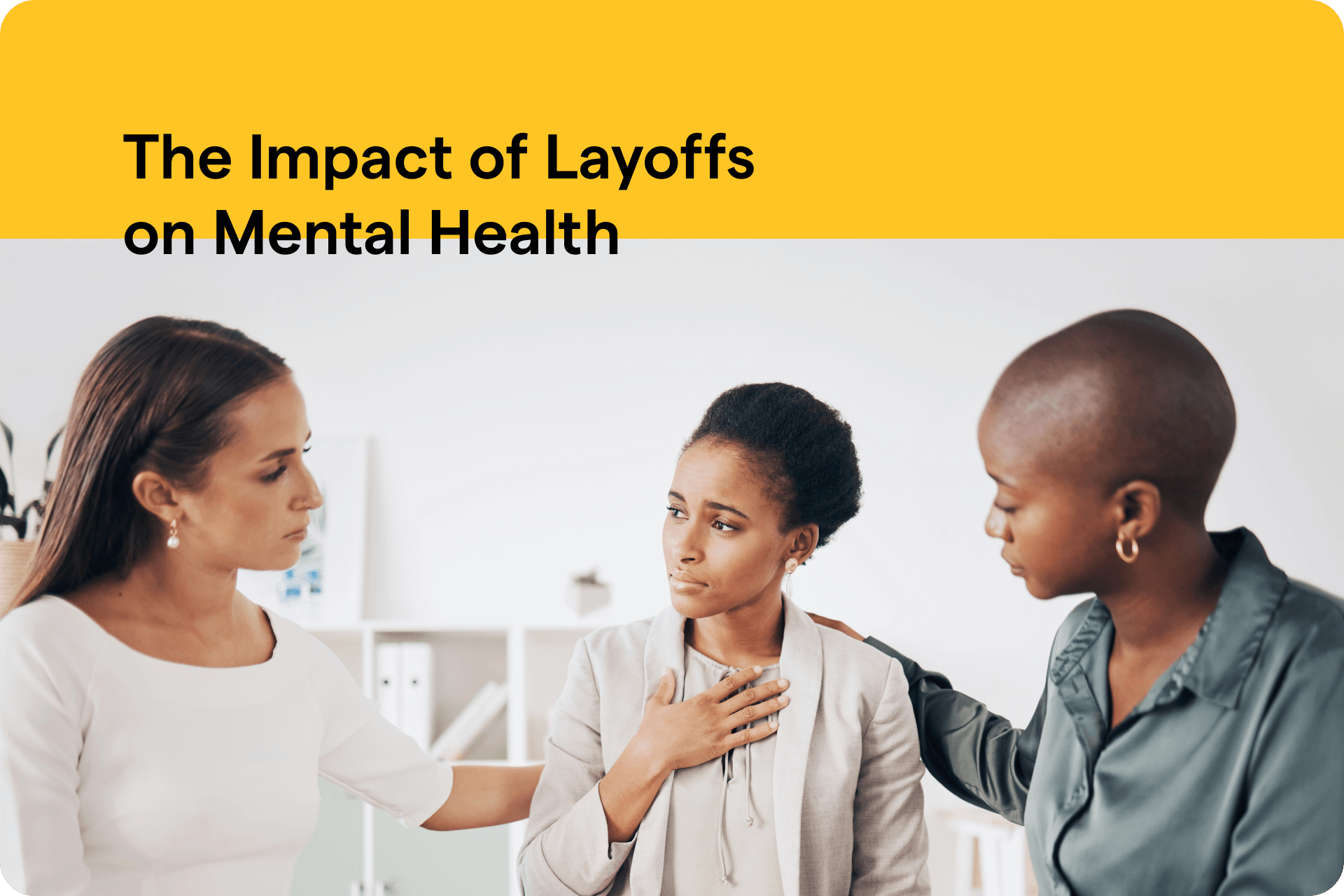 Many sectors struggled during the pandemic and are now emerging stronger. But the pandemic brought unprecedented market demand in the tech world. Companies doubled down on staffing and fast-tracked new products and services.
Now, however, the expansionist era is drawing to a close. Amid the shadow of economic uncertainty, Wall Street and private equity investors have demanded tech firms course-correct. As a result, U.S.-based tech companies have laid off more than 144,000 skilled workers this year alone.
Consequently, layoff anxiety is a growing concern for tech employees. Even those whose jobs remain safe can experience layoff anxiety, which includes the social implications of losing their colleagues, the impact on productivity, and the underlying dread that their position will be next on the chopping block.
Here's how layoffs impact remaining employees and what leaders and organizations can do to support them.
The layoff paradox: Engagement drops when it's needed the most
There's a misconception that, following a layoff or downsizing, the surviving employees will be grateful they still have a job and will work harder and be more productive. However, research shows that surviving employees do not work harder post-layoff.
A recent study of more than 4,000 employees who survived a corporate layoff reveals a decline in productivity, work quality, and engagement. Retention rates also drop sharply, with employers losing many of the remaining employees they had planned to keep. The negative impacts are significant, even when the layoff includes only one or a few employees.
Key findings among surviving workers:
87%

say they are less likely to recommend their organization as a great place to work

81%

say the service that customers receive has declined

77%

say they see an increase in errors and mistakes on the job

74%

say their productivity has declined since the layoff

69%

say the quality of their company's product or service has declined since the layoff

64%

say their colleagues' productivity has also declined

61%

say they believe their company's prospects are worse
The real impact of layoffs on survivors
Experts describe survivor guilt, or workplace survivor syndrome, as a consequence of downsizing and restructuring, and those who survive a redundancy program face the repercussions.
Like any traumatic event, the survivors experience various adverse effects, including impaired productivity, lack of trust in leadership and organizational commitment, negative attitudes, and elevated work-life balance conflicts. Some of the most significant challenges include: 
Increased workload:

Survivors are often required to take on additional responsibilities, leading to increased workloads and longer hours, causing burnout, stress, and fatigue.

Reduced morale:

Layoffs can create a sense of uncertainty and insecurity among survivors, leading to a decrease in morale, demotivation, anxiety, and concern about their job security, leading to a negative impact on job performance.

Loss of trust:

Survivors may lose trust in the company and management, making them feel the company did not have their best interests in mind, leading to a breakdown in communication and relationships.

Negative workplace culture:

Layoffs can create a negative workplace culture; survivors may become more competitive and less collaborative, leading to a decline in teamwork and a lack of support among colleagues.

Fear of future layoffs:

Survivors may worry about future layoffs and their impact on their employment, leading to increased stress and anxiety and a decreased sense of job security.

Lack of training and development:

Survivors may need training and development opportunities to advance their careers, leading to a lack of growth and progression within the company, which can ultimately impact job satisfaction.
According to the study on surviving workers, there is a silver lining. Personal productivity data, broken out by manager ratings, shows that workers who gave their managers high scores for Visibility, Approachability, and Candor were 72% less likely to report decreased productivity. Additionally, this group was 65% less likely to report a decline in their company's product or service quality.
How to support your remaining employees after a layoff
As a leader, following a layoff, your goal is to minimize the negative impact. Then, lead your organization back to a level of sustainable productivity.
To reduce employee anxiety and stress, leaders must know how to conduct a layoff with candor and compassion and manage the workforce post-layoff. Managers need to be highly visible to their staff, approachable even when they have nothing new to say, and candid about the state of things to foster trust and credibility.
Building the workforce's mental fitness through access to coaching and a structured program can be a game-changer for your organization. Coaching and mental fitness training can be the difference between a flailing and thriving workforce.
Mental fitness: A lasting solution for challenging times 
There's no question that long-term, systemic changes are needed in many sectors to reduce the mental burden on workers in this post-pandemic world. But plenty can be done at the root level with individuals and teams to help mitigate stress, prevent burnout, and protect the mental wellbeing of professionals in the workplace.
Purposeful mental fitness support can spark profound value across your workforce, enabling employees to unlock their potential as individuals and as part of dynamic, engaged, and productive teams.
With the Positive Intelligence® (PQ) Program for mental fitness training, organizational leaders can help employees recognize their potential for optimal performance and wellbeing. Together, they can activate and nurture a growth mindset.
Mental fitness training creates positive change in three key areas:
Performance
Mental energy 

Resilience 

Adaptability 

Focus
Wellbeing
Stress management 

Self-confidence 

Burn-out prevention 

Emotional intelligence
Relationships
Conflict management 

Diversity, equity, inclusion, accessibility 

Talent retention 

Teamwork and collaboration
Mental fitness training can help alleviate the impact of layoffs
Wellness programs and other change initiatives can improve employee wellbeing after a layoff. However, these approaches often don't address the root causes of stress, anxiety, and conflict — nor do they create long-term change. 
A neuroscience-based approach to mental fitness training can help individuals and teams intercept sabotaging thought patterns and generate a positive mindset. When teams strengthen the three core muscles of mental fitness, they build resilience and perseverance; spend less time in anger, regret, or blame; and unleash their creativity and innovation.
Learn more about how the PQ Program can help your organization achieve greater success: https://pq.tools/WellnessAtWork